Domus Aurea Tour – Exclusive access to the Nero's Golden House with VR Experience
Professional Guided Tour at the Golden House of Nero
Parco del Colle Oppio, Via della Domus Aurea, 00184 Roma RM, Italy
Travel Flexibly
Book with confidence knowing you can change your travel dates if your plans change. Read more
On this guided tour of the Domus Aurea, you will go back in time to Emperor Nero's reign. Take a tour of the building's corridors and listen to your guide's observations to learn about Nero's Golden House's stunning architecture and frescoes. With the special virtual devices, you can explore this palace in all its former splendor.
Tour Details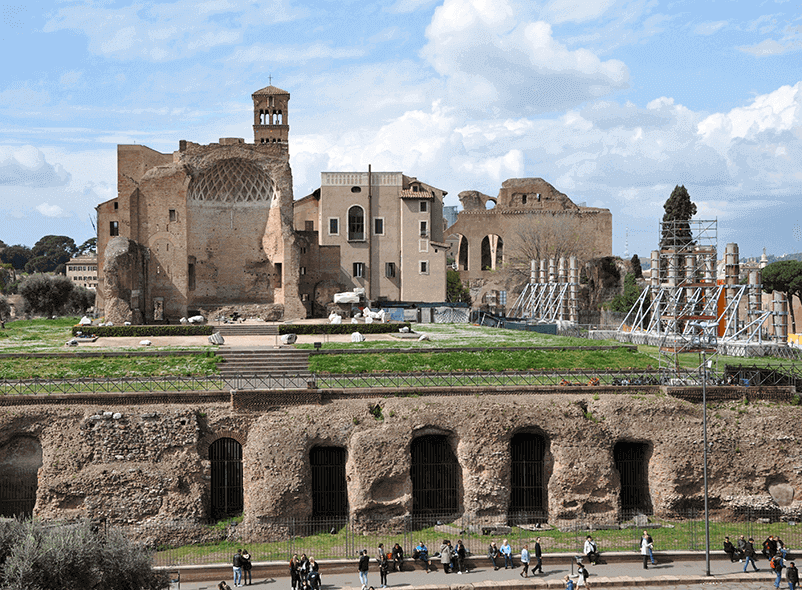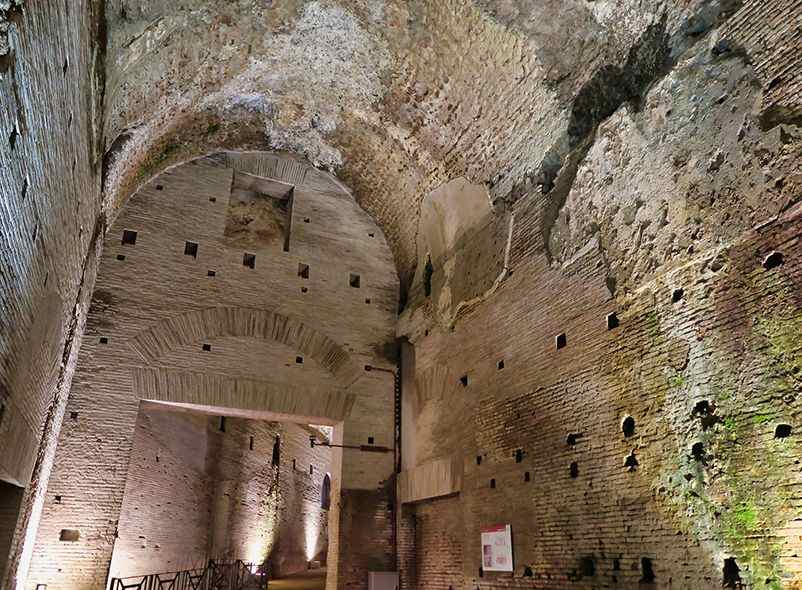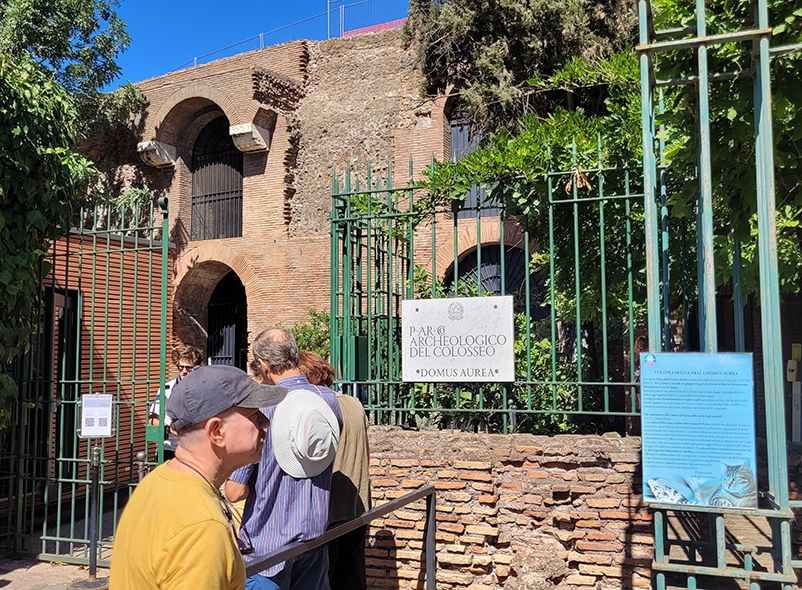 Tour Itinerary
Via della Domus Aurea, Roma
25 minutes before the tour start time
Flexible (Each time slot allows a maximum of 23 visitors)
Expert English, Italian, and Spanish Spoken Guide (By default Italian Guide)
9:30 AM to 2:40 PM (Choose any time slot)
Main Tour Attractions: Domus Aurea Tour
The Domus Aurea is quite close to the Roman Colosseum. It is the best evidence of Rome's historical power and is one of Italy's most popular tourist destinations today. This guided tour with VR devices allows you to discover the ancient palace of Nero in all its glory, just a short distance from the Colosseum.
Nero's Golden House
The tour begins with a brief description of the historic interiors of this massive complex from the knowledgeable archaeologist guide. The total number of experiences is separated into two categories. We'll begin with Emperor Nero's residence. This massive structure was built for the emperor's leisure time amusement. On Domus Aurea, one can see the massive gold leaf that covered the entire building and sparkled in the sunlight, as well as the jewels that decorated the interior ceilings.
It gives Nero's house the title "Golden House." But that wasn't the only extravagant aspect. The house is adorned with rare sculptures and pieces of art. The majority of them were gathered or seized in various places. The intricate frescoes by Michelangelo, Casanova and Raphael adorn the walls of this home. Original bronze statues of the Dying Gaul and the Galatian Suicide were seen there. Also, the famed Laocoon statue, which is now on exhibit at the Vatican Museums.
This special access tour will take you to a real archaeological retreat where you can watch the preservation and restoration process in action and experience what life would have been like in the "extravagant" period.
The 300 rooms of this true archaeological site have so many faces to discover.
Octagonal Room
The Octagonal Room, which is visited on the guided tour and is mostly intact, unlike other rooms of Domus Aurea. It is Domus Aurea's most famous room.
This room served as a venue for entertainment at the time of Nero. This lavishly furnished main banqueting hall was the meeting room for Emperor Nero.
This room also had a rotating floor that imitated the motion of heavenly bodies. The building was rotated by four round mechanisms hidden beneath the floor.
Domus Aurea's Room of Achilles
Room of Achilles at Skyros is on the east wing, close to the Octagonal Room. The central ceiling of the Room of Achilles at Skyros contains painted panels that were the artist Fabullus' creations.
The "Hector and Andromache" room
The Hall of Hector and Andromache is located on the other side of the Octagon Suite. Illustrations from Homer's Iliad were used to decorate the hall's ceiling.
Nero was an admirer of Greek sculpture, which you will find among the many beautiful frescoes from Nero's collection.
Underground Attraction
Domus Aurea was buried for many centuries before its rediscovery and rebuilding. You will not find an airy palace today that will make you feel like you are in an immaculate palace. This isn't to say the site isn't impressive. You'll be walking through vast underground passageways with brick walls and remnants of historic frescoes and mosaics. The grandeur and magnitude of the palace's corridors and halls will leave you speechless!
Tour Overview
Emperor Nero's opulent residence is jam-packed with fascinating facts. It had been buried underground for centuries. The Domus Aurea, which is still below street level today, is an unusual and demanding structure for archaeologists as well as a surprise for history buffs.
Enter the vast labyrinth of buildings, courtyards, and parks that stretches from Palatine Hill to Esquiline Hill in Rome. Nero's primary residence was Palatine. From there, several structures grew out, some of which were still connected to the Underground. It is more than just a residence. It's like a city that has sprung up around the Stagnum Neronis. This artificial lake was later filled in to build today's Colosseum.
Nero's opulent mansion – Domus Aurea
Built in 64 AD, it is one of the most magnificent buildings in Roman history. Emperor Nero constructed this huge landscaped palace in the center of ancient Rome. This complex's buildings were lavishly embellished with valuable stones, ivory, and gold leaf. And the outstanding wall murals were influenced by Renaissance artists.
Investigate the surroundings of Nero's Pleasure Palace
Not only the exquisite wall paintings, but there are also gilded walkways, beautiful fountains, and gardens that separate the palace's 300 rooms.
You won't feel claustrophobic because of how tall the rooms and galleries are. Observing authentic Roman frescoes is exciting for history enthusiasts. And we know that very well. The guide will give excellent thorough explanations of everything, which helped you picture how it would have appeared all those years ago.
What's even better is that every visitor will notice something a little different every time they visit Domus Aurea. Because here archaeologists are still actively working on finding more of the buried mysteries.
The Domus Aurea tour with VR glass is rather highly spectacular. Any Roman enthusiast would love a tour of Domus Aurea.
In terms of topography and history, the precise record of this place provides a good introduction to Imperial Rome. The professional narrator will make sure the tour is great and help to bring the site to life.
Tour Highlights
No need to worry about the lines and crowds and get a special entrance to Domus Aurea.

Observe stunning ancient frescoes on Domus Aurea's wall.

Explore the Octagonal room, an influential hall used by Emperor Nero for meetings.

Explore the Room of Achilles and Skyros

Investigate Hector and Andromache's Room

A 360-degree view of the Colosseum.

Listen to the enthralling stories of the notorious Emperor Nero.

Listen to Roman tales of Nero's Golden House.

Reach the top of the Palatine Hill and have an exceptional view of the Forum.

Use virtual reality glass to improve your tour experience.
What is included
Special access to Domus Aurea

VR devices

Expert Professional archaeologist guide
What is not included
Hotel pick-up and drop-off

Gratuities

Food/Beverage
See what people are saying
14 total reviews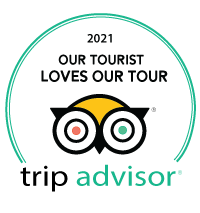 Average customer rating
5/5 Based on 14 Reviews
Showing 1 - 3 of 3 in total
Frequently Asked Questions
Nero's pleasure house is the Domus Aurea, commonly known as the Golden House of Nero, which was built in 64 AD. This palace was constructed by Emperor Nero using gold leaf, semi precious stones, and frescoes. This magnificently decorated mansion has a 300-acre footprint. Undoubtedly, Nero built it for his own entertainment.
The answer is Yes. You can visit the Domus Aurea exclusively with our guided tour. Our special access tour will allow you to discover the residence of Nero's ancient Golden House in all its former glory. All thanks to modern technology that has been incorporated into cultural heritage.
We will say you will be missed a lot if you don't take our guided tour to Domus Aurea. Anyone interested in Roman history should visit the Domus Aurea once in their life. This site is really spectacular. It gives you an excellent introduction to Imperial Rome's landscape and its history. You will witness the opulent lifestyle that Emperor Nero once lived in this palace. Every nook and cranny of this palace is rich with history. Not to mention the magnificently frescoed Renaissance walls. Last but not least, the tour guides are excellent and will contribute to restoring the area from Emperor Nero's time
Domus Aurea tour is the second most popular tour after Colosseum Underground tour. In comparison to other guided tours we provide, admission to Domus Aurea can be a little pricey. But the price is more than justified by our guided tour. Domus Aurea tickets price is 35 euros for adults (ages 13 to 99) and 28 euros for children (7 to 12). The cost covers both the guided tour and the virtual reality experience.
On the Colle Oppio, right near the Colosseum, Domus Aurea is located. You can go there through the Colle Oppio park's gates from the Piazza del Colosseo with ease.
This enormous palace, known as the Domus Aurea, was originally owned by Emperor Nero. A tour must be booked in order to explore these enormous rooms of historical significance. And booking a guided tour is the best way to experience Domus Aurea. You're in luck since Domus Aurea admission is now available. So order your tickets quickly before they all sell out. Let us also mention that the guided tour along with VR is part of the tour.
Yes advance booking is important since it helps you to book the tour at the best convenient time.

Domus Aurea is a very popular attraction. Although this site allows tours throughout Fridays, Saturdays, and Sundays. There is a tourist limitation per visit (a maximum of 23 people allowed). So you can't risk by just showing up without actually booking the tour ticket. That's why it is always a good idea to book the tour in your preferred language way ahead of the tour time.
Domus Aurea tour is over in just 75 minutes. We can tell you that it is worth every minute. If you'd like, you can continue your journey by going on an outside tour of the neighboring Colosseum.
Wheelchair users can access this tour to a certain extent. Since this site is still being excavated, the accessible parts may change at any time. Before booking the tour, be sure to discuss the problem with us so we can direct you accordingly.
Yes, the Domus Aurea tour includes a VR experience. Our professional tour guide will accompany you to the Domus Aurea underground throughout your visit. Here, you'll have the chance to use VR technology under the direction of the Domus Aurea team to learn about the Roman Emperor's extravagant life!

Please be aware that wearing virtual reality goggles is not advised for people with epilepsy or serious eye conditions. The same rules apply to those under the age of 13.
Wearing Face mask is highly recommended.
The temperature inside the Domus is around 10 degrees. Comfortable footwear and appropriate clothing are advised.
Avoid bringing large bags or luggage with you.
The Domus Aurea tour is currently available in three different languages. English, Italian, and Spanish. But it can be changed at any time due to availability. You will by default be given an Italian-language tour. Please call us at +39 06 2757630 (Monday to Saturday from 8 am to 4 pm) to confirm if the language of your choice is available if you choose another language (English and Spanish) than Italian.
This tour is an "all sales final" tour, which notifies customers that there are no cancellations, refunds, or exchanges of date for this tour. No modification is possible. It is best to be at the tour meeting spot 25 minutes early. It is the customer's duty to arrive on time. If you arrive later or don't show up, we are sorry but we cannot accommodate you because the tour already started at the tour destination with other participants.

You must pay the full cost of the tour ticket in order to reserve a different day tour time.
Call us at +39 06 2757630 to cancel any trip; we're available Monday to Saturday from 8 am to 4 pm. Please review our Cancellation & Refund Policy for Rome Tour Tickets before canceling this tour.
At Rome Tour Tickets, we are solely responsible for keeping you up to date with the most correct information.
According to new COVID-19 rules, now tourists don't need to show a vaccination certificate, test certificate, or "Green Pass" to enter the Rome, Colosseum. Also, no certificate is required to enter restaurants, museums, historical places, etc.
When visiting the Colosseum, you must wear a mask. If you violate this rule, you can not enter the Colosseum.
At the entrance, your temperature will be taken; if it is higher than 37.5C (99.5F), entry will be refused.
While in the open-air areas of the Roman Forum / Palatine Hill, the mask requirement may be relaxed. However, you must wear a mask when entering the Roman Forum area.
Visit Covid-19 Travel Notice for the most up-to-date travel information during this epidemic.