Florence Duomo Tour with No-waiting Entry
See the Florence beauty by climbing up to the Cupola
Rome, Metropolitan City of Rome, Italy
Travel Flexibly
Book with confidence knowing you can change your travel dates if your plans change. Read more
With your professional guide, tour the Duomo complex in Florence and visit this historic region. The Cathedral, the Baptistery, and the Bell Tower are all worth visiting. Climb to the top of Giotto's Bell Tower, then explore the Museo Della Misericordia on your own.
Tour Details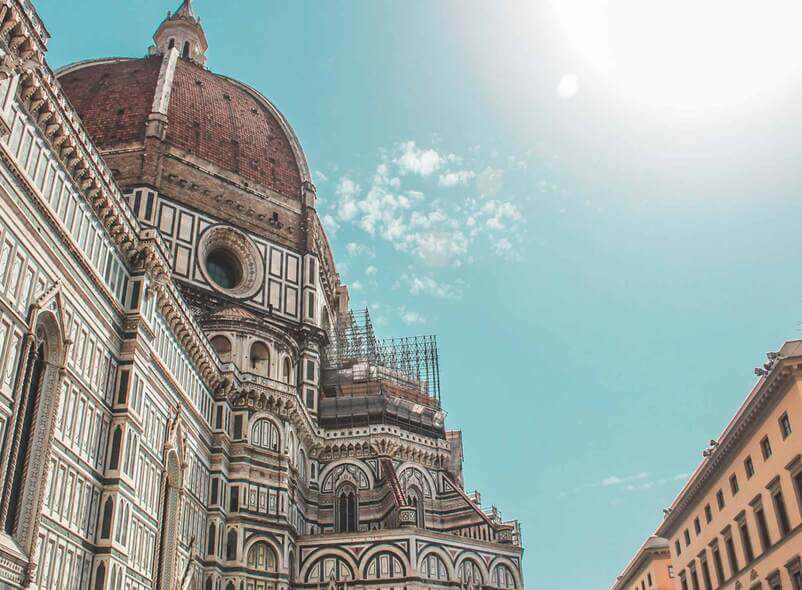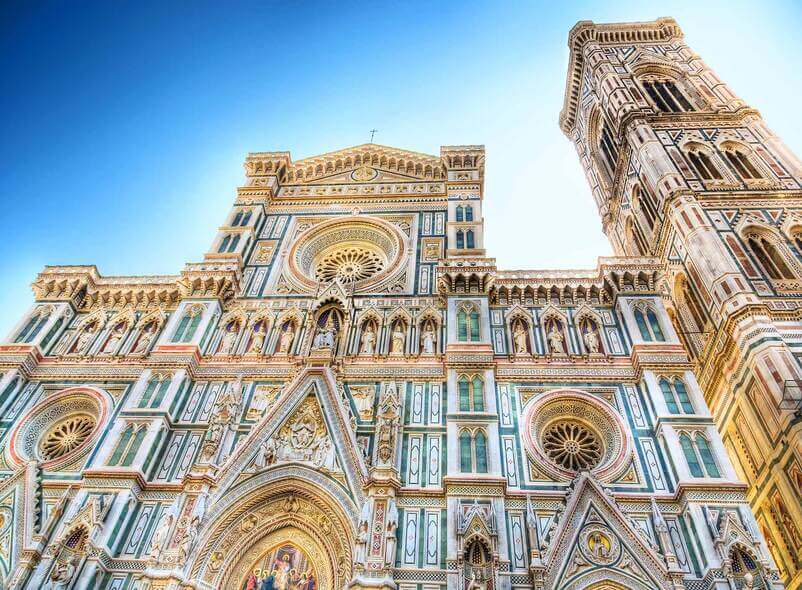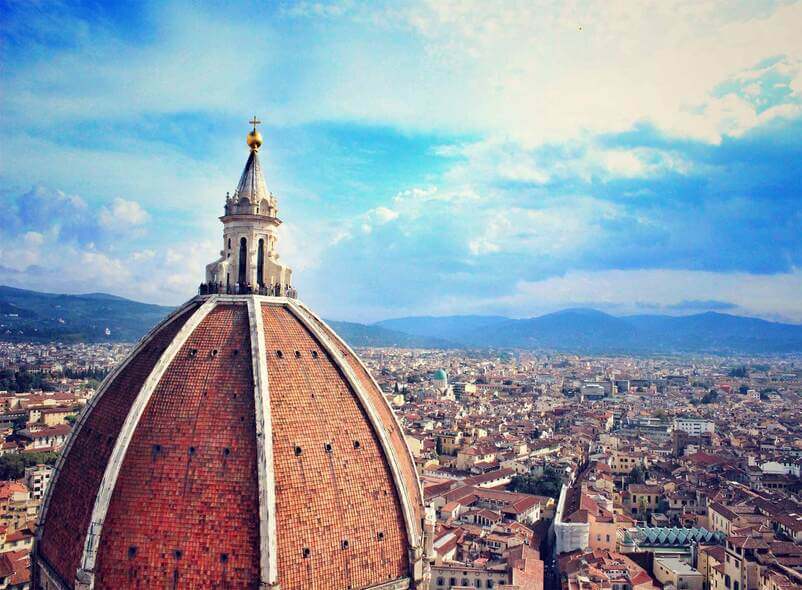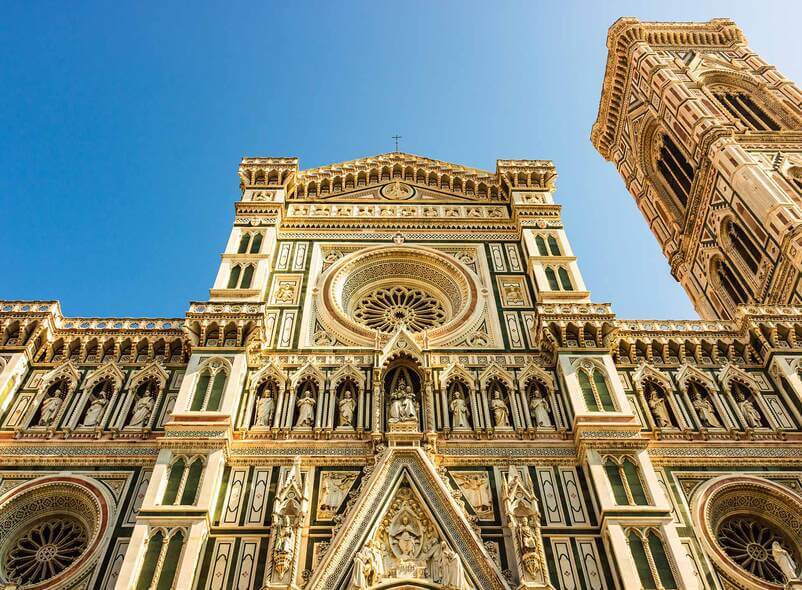 Tour Itinerary
Dome Entrance (Cupola) side of the ARNOLD COFFEE. (Downstairs)
25 minutes before the tour start time
Chinese, English, French, German, Italian, Portuguese, Spanish
Main Tour Activity
This amazing tour starts by exploring Renaissance Florence.
Go to the top of Brunelleschi's Dome where you will be astounded by the city's ever-changing views. Tickets and reservations in advance in this tour let you save extra hours by skipping the long queue and going directly to the Duomo.
With an expert guide, you can discover the major attractions of this cathedral site and with the detailed discussion, you can make your time here extraordinary.
Voyage around the radiant landmarks, the bell tower of Giotto, offers you some picturesque views of the city. Tour the magnificent structures of this ancient site, including the Baptistery. Along the trip, ask as many questions as you want to learn about Florence's historic center, which is also a UNESCO World Heritage site. You will be provided a Wireless headset to hear so clearly about how this building was built in the 13th century. It's like two centuries align together in this beautiful Florence city. This guided tour is what makes your visit to Florence a unique one.
Tour Overview
This guided tour will take you to the world-famous Brunelleschi's Dome, Giotto's Bell Tower, St. John's Baptistery, and the Cathedral's Museum.
The tour of the Cathedral's Great Museum will take you through more than 1500 years of history, taking in all of the monuments of Florence. This is a once-in-a-lifetime opportunity to truly enjoy the heart of Medieval and Renaissance Florence. A tour among the monuments here is unlike any other in the world. You will experience marvels of art while strolling in the square.
The expert tour guide will lead you to the Baptistery, which is dedicated to St. John, Florence's patron saint. It is one of Florence's oldest structures. The outer façade is decorated in Carrara and Prato marble where magnificent bronze doors are adorning.
The tour then continues to Giotto's Bell Tower which is adorned with multi-colored marble walls. You will see a spectacular figurative cycle here.
The mysteries of the famous magnificent Brunelleschi's Dome will be unfolded by the guide's narration. This is the world's third-largest church. You will see the largest masonry building that was ever created and it has become one of the city's symbolic features.
Inside the Cathedral there are Gothic-style masterpieces. Admire the frescoes that are adorning inside, pleasantly done by Vasari and Zuccari. Some magnificent works by Baccio Bandinelli, Benedetti, and other Renaissance greatest artists work also inside the Dome.
After a brief stop at Dome, your trip will continue to the biggest artifacts from the Cathedral which is kept at Opera del Duomo Museum. It is located in an incredibly picturesque location. The ancient Baptistery doors are also on display here. You will be staring over Michelangelo's Pietà del Duomo and Donatello's Penitent Magdalene, as well as some greatest works of Medieval and Renaissance artists. The panoramic view from the top will keep you up close with the city.
Tour Highlights
Get to the top of Cupola.

Breathtaking views from the Duomo of Brunelleschi.

Discover the major attractions of the cathedral site.

No-waiting entry to the Florence Duomo.

Admire ancient structures such as Giotto's Bell Tower.

Learn about Florence's historic center from Professional tour guide.
What is included
Fees for admission

Tickets and Bookings for the Dome

Expert Multilingual Tour guide

Wireless headset

Exclusive ticket to the Duomo Museum, the crypt, the baptistery, and the bell tower

20% discount at Arnold Coffee on all purchases.
What is not included
Hotel pick-up drop-off

Gratuities
See what people are saying
0 total reviews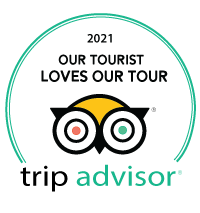 Average customer rating
0/5 Based on 0 Reviews
Showing 1 - 0 of 0 in total
Frequently Asked Questions
If you want to take a trip to Florence, Italy, then visit during May and September. This is the best time when the weather is nice and Florence is bathed in Italian sunlight. During that time, the city hosted a number of art festivals and open-air dining events. Despite the fact that this is the peak tourist season, all of the major tourist attractions are overcrowded. However, with a skip-the-line admission ticket, you won't have to worry about it and can instead appreciate the treasures of Florence.
Fortunately, Florence isn't as expensive as a tour in Rome or Venice. However, hotels in main attraction areas are costly here, especially during peak time. If you are running on a budget there are reasonable options as well and some alternate options, such as private rooms.
Our local tour guides will help you to get the best deals in finding your accommodation here. So there will be no dull moments here on the tours.
When visiting a new city, we strongly advise taking guided tours. You not only get historical and anecdotal information, but you also save a lot of time looking for items at other locations. Our guides are also locals who are really enthusiastic about what they do. Our excursions are extremely reasonably priced, and our standard is enjoyable learning, therefore there are never dull times on our tours!
Pregnant women, anybody with vertigo, claustrophobia, or heart issues should avoid this tour.
Some worship and selected sites required to maintain dress code for both men and women. Both men and women must enter the church with their knees and shoulders covered.
Wearing comfortable shoes is recommended here as this tour involves a lot of walking. Also don't forget to bring the Passport and ID with you, as both adults and children need to show this identity document during the entrance. Please don't carry big bags or luggage with you.
Yes, you're allowed to take it. This tour ticket is valid for 48 hours. So you can explore the rest of the Duomo complex the next day.
Yes, hotel pick-up option is available but it is optional and comes with extra fees. Please select the Hotel transportation option at the time of tour booking. We will arrange it for you.
This tour is non-refundable and cannot be canceled. However, you can make changes to the tour time and date if you informed us 48 hours before the travel date. The adjustment will be made based on availability. Only one change is applicable for the tour time and date.
Call us at +39 06 2757630 to cancel any trip; we're available Monday to Saturday from 8 am to 4 pm. Please review other cancellation-related FAQ of this tour and the Cancellation & Refund Policy of Rome Tour Tickets before canceling this tour.
We at Rome Tour Tickets are entirely responsible for providing you with up-to-date information and ensuring your safety while traveling.
It is no longer necessary to have a Green Pass to enter Italy from EU member states or other international nations. The wearing of face masks is still optional. However, face masks are still required during the tour for indoor and outdoor events, as well as specific venues like galleries and museums. And you will be penalized if you break the regulations.
Visit Covid-19 Travel Notice for the most up-to-date travel information during this epidemic.