Guided Small-group Uffizi Gallery Tour
Book online Uffizi Gallery Skip-the-Line tour in Italy
Rome, Metropolitan City of Rome, Italy
Travel Flexibly
Book with confidence knowing you can change your travel dates if your plans change. Read more
Bypass the lengthy queues at the famed Uffizi Gallery and stroll through the immense art masterpieces dating from the Middle Ages to the Italian Renaissance. This tour includes a professional guide and a small tour group, allowing you to explore at your own leisure.
Tour Details
Tour Itinerary
Every day, except Monday and the first Sunday of the month
Via della Condotta 12, First Floor, 50122 Florence
25 minutes before the tour start time
Main Tour Activity
Start by a brief journey to Uffizi Gallery
You'll see classics like Caravaggio's Medusa, Botticelli's Birth of Venus, and Michelangelo's only oil painting – Doni Tondo, if you take this 1.5 hours guided tour of the Uffizi Gallery in Florence in your chosen language.
Visiting here you'll be the witness of such great works done by Botticelli, Leonardo da Vinci, and more. Not to mention the breathtaking view from the rooftop. This guided tour will provide you with a personalized experience with a maximum of 12 tour participants.
After your guided tour, you may explore on your own and stay as long as you like. Visit the bookstore or unwind in the café with a view of the plaza.
Tour Overview
Visiting the Uffizi may be intimidating, with over 1.5 million yearly tourists and over 2,200 pieces on display. On this guided tour of the Uffizi Gallery in Florence, you'll get the opportunity to enjoy your stay in a more casual and organized manner.
You'll have a behind-the-scenes look at one of Italy's most famous art collections. With skip-the-line admission, you can avoid the crowds and discover more about the museum's attractions with a professional guide. Prepare to be awestruck as you see masterpieces by Leonardo da Vinci, Michelangelo, and Caravaggio, as well as by some renowned paintings by Titian and Botticelli. On top of that, you are allowed to continue your visit as long as you want to uncover even more beauties.
What to expect at Uffizi Gallery
During our guided tour of the Uffizi Gallery, you will learn about Florence's history and all of its mysteries. The true beauty and artistic talent of the Uffizi collection will be up close and personal to you. You'll have the rare opportunity to learn how to look at and appreciate classic pieces. From works by the brilliant Leonardo da Vinci to Giotto's one-of-a-kind touches to Botticelli's beautiful flower-filled "Primavera" and stunning "Venere," you'll have the unique opportunity to explore every masterpiece. These pieces of art will come to life in front of your eyes with the help of a professional tour guide narration.
You'll be guided through a maze of visual delights, including the frames and backstage areas of famous centuries-old works. You can even discover the qualities and characteristics that demonstrate how art has evolved over time.
Learn all about Medieval art's history and how it evolved into Renaissance art, which made today's Florence the epicenter of a true cultural and creative revolution.
Our Small-Group Uffizi Gallery guided tour is more than just a visit; it's a once-in-a-lifetime artistic experience to be cherished forever.
Tour Highlights
A thorough visit to all the masterpieces this gallery holds.

Exclusive skip-the-line tickets.

Explore every part of one of Italy's oldest museums.

After your guided tour, stay and appreciate the gallery for as long as you like.
What is included
Skip-the-line entry to Uffizi Gallery

Live professional guide

Headphones
What is not included
Lunch

Gratuities

Hotel pick-up and drop off
See what people are saying
20 total reviews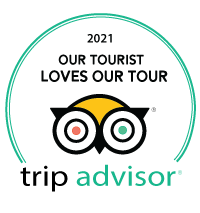 Average customer rating
4.9/5 Based on 20 Reviews
Frequently Asked Questions
Please be at the meeting location 25 minutes before the trip begins. We cannot accommodate late arrivals because tours are time-sensitive.
Florence's Uffizi Gallery is one of Europe's oldest museums. A trip to the Uffizi Gallery to see all of the exhibitions and admire the magnificence is a must on any Florence itinerary. The majority of the Renaissance era magnificence was shown in museums. It's a once-in-a-lifetime chance that shouldn't be passed up.
Yes, a guided tour of the Uffizi Gallery will help you navigate around the museum's many chambers and gain a comprehensive understanding of Botticelli, Michelangelo, and Leonardo da Vinci masterpieces.
You are not permitted to take a guide narrative inside the gallery. As a result, you will be provided with audio headphones to have a complete experience.
You do not need to buy tickets in advance for any museums; however, we do recommend it for the Uffizi due to the lengthy queues at the public admission ticket line, which waste valuable time in your tour at Florence. If you only have a limited amount of time, we recommend purchasing tickets in advance.
One of the World's Longest Corridors is found at this renowned Art Gallery. The Vasari Corridor runs between the Uffizi and the Pitti Palace. Vasari designed it for the wedding of a Medici heir in 1565.
Any acceptable form of clothing is appropriate for Uffizi Gallery. It should be a formal setting. Wearing bathing costumes or extravagant gowns, or exposing too much skin is considered inappropriate.
Wearing comfortable shoes is recommended here as this tour involves a lot of walking. Also don't forget to bring the Passport and ID with you, as both adults and children need to show this identity document during the entrance. Please don't carry big bags or luggage with you.
Yes inside the Uffizi Gallery, photography is permitted. When taking photographs, please be kind to other people who are appreciating the artwork. Within the museum, the usage of flash-stands, tripods or selfie-sticks is forbidden.
Yes, hotel pick-up option is available but it is optional and comes with extra fees. Please select the Hotel transportation option at the time of tour booking. We will arrange it for you.
This tour is non-refundable and cannot be canceled. However, you can make changes to the tour time and date if you informed us 48 hours before the travel date. The adjustment will be made based on availability. Only one change is applicable for the tour time and date.
Call us at +39 06 2757630 to cancel any trip; we're available Monday to Saturday from 8 am to 4 pm. Please review other cancellation-related FAQ of this tour and the Cancellation & Refund Policy of Rome Tour Tickets before canceling this tour.
We at Rome Tour Tickets are entirely responsible for providing you with up-to-date information and ensuring your safety while traveling.
It is no longer necessary to have a Green Pass to enter Italy from EU member states or other international nations. The wearing of face masks is still optional. However, face masks are still required during the tour for indoor and outdoor events, as well as specific venues like galleries and museums. And you will be penalized if you break the regulations.
Visit Covid-19 Travel Notice for the most up-to-date travel information during this epidemic.