Tivoli Gardens Tour, Best Day Trip from Rome
Visit Tivoli Fountains, Hadrian's Villa & Villa d'Este
Vatican Museums, Viale Vaticano, Rome, Metropolitan City of Rome, Italy
Travel Flexibly
Book with confidence knowing you can change your travel dates if your plans change. Read more
This 7-hour guided tour of Tivoli's hilltop region is really enjoyable. Your expert tour guide will take you on a tour of the ancient town and to Hadrian's Villa and the Villa d'Este. You'll get the opportunity to learn about the history of the area as well as unveil a fascinating section of Roman countryside.
Tour Details
Tour Itinerary
In Tivoli, 19 miles (30 km) from Rome
Via Cavour 224. Nearby metro station: "Cavour" (Line B)
25 minutes before the tour start time
Main tour Activity
Your tour will start in the early where you will get almost 7 hours to explore the stunning sights of Tivoli. You will be transported through an air-conditioned bus while exploring these two beautiful UNESCO World Heritage-listed spots.
Enter the Emperor Hadrian's old retreat, the Villa Adriana in Tivoli in this exclusive day time trip. Within this tour, you can go back in time to the Roman Empire. With skip-the-line access and a trained guide, explore Italy's largest and most exquisite residential landmark. Discover stunning archaeological ruins and gardens at Hadrian's country house and explore the magnificent Maritime Theater. You will be acquainted with a guide who will explain their significance in Roman history as you experience the intriguing sights.
In the second part of this trip, we'll start exploring the Villa d'Este. After lunch our journey will start. You will go through the inside grounds with your guide, who will explain to you about this massive villa, which is regarded as the most beautiful location of the Italian Renaissance. The magnificent fountains will ensure that you remember your vacation for a lifetime. Prepare to take some stunning photos of the ruins, gardens, and fountains. Learn about the emperors and cardinals who resided there and their extravagant tastes.
Tour Overview
This day-long guided trip takes you around Tivoli's wonders Adrian Villa and Villa d'Este. Your guide will offer you an intimate look at the lives of the Roman nobility as you drive past stunning homes and see historical treasures. Above all, you'll be able to do it all while someone else takes care of the tour program and guides you around the villas.
What to see at the Tivoli famous Adrian Villa and Villa d'Este:
The Hadrian's Villa (also known as Villa Adriana) is a luxurious retreat. The enormous complex is far more than a "villa,". It is almost 300 acres in size and has a variety of structures, including palaces, libraries, spas, guest quarters, and other structures, as well as various water features. All of this just took 15 years to get completed. Despite the fact that it was intended to be Hadrian's retreat from Rome, he used it as the seat of administration in his final years.
After a brief visit at Hadrian's Villa, we'll leave the enticing remains of the 2nd century A.D. behind and go to the 14th century, where we'll see Villa d'Este, one of Italy's most magnificent Renaissance palaces. This magnificent mansion will wow you with its magnificent grounds filled with hundreds of fountains. The most striking is Bernini's gigantic Neptune's Fountain.
Both of the tours are exclusively available with skip-the-line access. So now you don't have to waste time while entering inside the Villa.
Tour Highlights
In Tivoli, visit the ruins of the Villa Adriana.

Explore the site where Hadrian built his country home.

Roam around the stunning monuments of Maritime theater, its lounge area, library, art galleries, fountains, and more.

Stroll around the Italianate grounds at Villa d'Este.

Explore the vast grounds for water features, classical monuments, and more.

Take a glance within the portico and its artificial island.

Admire the sculptures at the Canopy's pool, and go up close to the Serapeum's artificial grotto.
What is included
Skip the Line Entrance ticket to the Villa Adriana

Transportation on a bus to and from the Villas

Professional guide

Headsets

Group of 8 to 10 people
What is not included
Food and drinks

Hotel pickup and drop-off

Gratuities
See what people are saying
15 total reviews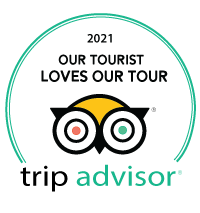 Average customer rating
4.9/5 Based on 15 Reviews
Frequently Asked Questions
Unfortunately, same-day reservations are not accepted. Depending on availability, we may be able to accommodate you for the next day if you reserve the tour night before.
You are not obliged to carry the voucher with you all the time. But we recommend you to bring the printed copy of the voucher as it holds the important tour information such as meeting location, start time, and emergency contact numbers.
When you book the tour online or via one of our agents, you will get the tour confirmation voucher or email. All of the reservation details will be included in that email. So make sure to check your email box.
And for any kind of tour information, call us at: +39 06 2757630 (Available from 8 am to 4 pm, Monday to Saturday) or email us at support@rometourtickets.com. We have 24/7 dedicated customer support service to help you with any kind of tour related queries.
Yes you can add any extra requirements such as transportation service or breakfast or lunch requirements during the tour booking process. Or if you have any other requirements such as bringing a stroller or wheelchair or any queries regarding an upgrade, or anything else, call us at: +39 06 2757630 (Available from 8 am to 4 pm, Monday to Saturday) or email us at support@rometourtickets.com
Yes, a complimentary entrance is available for children ages 0 to 3 years old. Here bringing valid documents is necessary such as passport, state ID etc as an evidence for the age.
And the children who are ages between 3 to 17 years old and the students who are ages under 25 will get a discount on the ticket price. Students need to bring a valid student ID to avail this discount.
You can bring a small bag with you that has the necessary items for the tour. During the tour, do not bring any large bags or luggage, as it is not permissible to enter the attraction with large bags.
Tour confirmation will be received within 48 hours, depending on the availability. After booking is confirmed you will receive an email voucher containing all the important tour information.
Yes, hotel pick-up option is available but it is optional and comes with extra fees. Please select the Hotel transportation option at the time of tour booking. We will arrange it for you.
This tour is non-refundable and cannot be canceled. However, you can make changes to the tour time and date if you informed us 48 hours before the travel date. The adjustment will be made based on availability. Only one change is applicable for the tour time and date.
Call us at +39 06 2757630 to cancel any trip; we're available Monday to Saturday from 8 am to 4 pm. Please review other cancellation-related FAQ of this tour and the Cancellation & Refund Policy of Rome Tour Tickets before canceling this tour.
We at Rome Tour Tickets are entirely responsible for providing you with up-to-date information and ensuring your safety while traveling.
It is no longer necessary to have a Green Pass to enter Italy from EU member states or other international nations. The wearing of face masks is still optional. However, face masks are still required during the tour for indoor and outdoor events, as well as specific venues like galleries and museums. And you will be penalized if you break the regulations.
Visit Covid-19 Travel Notice for the most up-to-date travel information during this epidemic.