Looking for the best way to visit Vatican museums & Sistine Chapel? Well, we're talking about last-minute tickets.
Vatican museums tickets offer an abundance of opportunities for visitors. It is the home of Roman Catholics. This smallest state welcomes tourists all year round. Every year around 6 million people visit Vatican city for exploration.
With a licensed tour operator, you can do the sightseeing more exclusively. With this improved service, you will get the greatest possible offer that reflects the Vatican's true character. Get an exceptional experience at the Vatican State with the Vatican museum skip the line ticket.
What is the Vatican museum skip the line?
To escape from enormous crowds and waste less time waiting in long lines, you need to skip the line access. This allows you to visit the Vatican museums, the Sistine Chapel, the Vatican Gardens, St. Peter Basilica, and other attractions.
You can see the Vatican City and the Vatican Museums by standing in huge queues for hours. You can get tickets at the venue if you don't want to wait. However, you might as well be facing lines there. If you want to avoid standing in line for two hours or longer, we strongly urge you to purchase Vatican museum tickets online.
Check out the guided tour on visiting Vatican Museums & Sistine Chapel. And make your tour here a memorable one.
How to plan your visit to Vatican City Museum & Sistine Chapel
If you are planning to visit Vatican Museums and Sistine Chapel, you have to choose the way for the tour.
For a deeper exploration, you can choose a guided tour of Vatican City.
On the west bank of the Tiber River, on the outskirts of Vatican City, are the Vatican Museums.
Way to visit Vatican Museums and Sistine Chapel:

There are several ways to choose to travel to this location. Here you'll either take the tram, subway, or hop-on hop-off bus tours.

There are various ways to go to this site, but we'll focus on the most straightforward and cost-effective methods.

You can consider taking Vatican and Rome Bus Tours. By taking the Omnia card, you can join and take the excursion free of hassle.

How long does it take?

Vatican Museums usually open every day. But on Sunday it is open from 9:00 a.m. till 18:00 p.m., with the last admission at 16:00 p.m. However not all hours are equally crowded. That depends on what and when you want to visit, what your itinerary and whether or not you have skip-the-line tickets.

This depends on what you want to see, when you want to go, and whether or not you have skip-the-line tickets.

Lines for tickets to enter the Vatican can stretch for almost a kilometer during peak summer months. So be sure to take your skip-the-line tickets with you.

In fact, there are so many interesting things to see at museums. You can easily spend an entire day exploring them.

Also, you don't need to spend such a long time if you just opt for the highlights.

Visitors who want to see everything must plan on everything beforehand. Plan a complete itinerary before spending a whole day seeing the Vatican Museums and Sistine Chapel.

And just to give you a heads up. To go to the Sistine Chapel, you must first journey through the Vatican Museums. That journey covers over 30 minutes, as there is an additional metal detector to pass.

There is just so much to devour inside, So we recommend that you don't hurry the journey. Take and schedule your time to explore this historic site.

Must take into consideration the operating hours as well.

Ways to get Vatican museums and Sistine chapel tickets

The Vatican Museum and Sistine Chapel tickets can be purchased in a number of ways.

Tickets can be purchased in person or online. Tickets that are purchased in person are less expensive than those purchased online. However, this method doesn't secure you from waiting in line or the danger of being denied entry to the Vatican Museum and Sistine Chapel.

To skip the line access, tickets must be purchased in advance. For that, you need to make an online reservation. You can directly purchase from the Vatican museum website. There you'll find the Vatican Museums and Sistine chapel official tickets. Occasionally, tickets for the Vatican Museum are sold out on the official website.

Or, you can purchase tickets from a third-party website, such as Rome Tour Tickets.

Vatican Museums tickets automatically grant admission to the Sistine Chapel. There are no tickets available for the Sistine Chapel alone. The only way to get into the chapel is to go through the museum.

How much do Skip-the-line tickets cost?

The ticket price depends on what additional things are included. Generally, some guided services provide an audio guide with the ticket. And some just sell the Vatican Museums and Sistine Chapel skip the line ticket.

There is some discount available on the ticket price for the children aged between 0 to 6 years old.

Students can avail of student discounts who are aged under 25. But they must bring a student ID to avail of this discount.

There is also a reduced ticket price for EU citizens. 18 to 25 years citizens will enjoy reduced ticket prices, while citizens ages between 6 to 18 will enjoy complimentary tickets.
Things to must follow at Vatican city
There are certain things you should maintain while visiting the Vatican Museums and Sistine Chapel.
The Vatican City is a single state that is located in Italy yet is self-governing. As a result, security is extremely high. You will be going through the metal detector while entering the museums. So make sure you don't carry the following things with you.

Knives
Nail clippers
Scissors
Metal Tools
Sticks
Stands
Tripods
Video Cameras
Large Bags

Do I have to carry the passport with me? No, you don't. It's better to keep the passport in a safe place. So you won't lose it during the visit. However, we recommend keeping a photocopy with you. It may be required in some regions outside of the tourist zones. So it's better to be aware beforehand.

Don't overpack! You can't carry large bags at museums. Instead, you might leave them outside while going inside.

Carry your own water bottle. It is hot inside the museums, especially during summer. Also, there is no air conditioning in most of the museums.

Vatican Museums and Sistine Chapel maintain one separate door from St. Peter's Basilica. So you can visit St. Peter's church free of cost.

People are curious about the location of the Sistine Chapel. It is on the right-hand side next to St. Peter's church.

Photography is permitted practically everywhere in the Vatican museum. But it is prohibited inside the Sistine Chapel. Also, there are places where you can't use flash to take pictures. This notice clearly stated in those places as Italian (senza flash means "without flash")

Appropriate attire is important while visiting Vatican City. This place has a certain clothing code which includes covering shoulders and knees.

Generally, you don't need a passport to visit those public areas, which include:

The Square of St. Peter
St. Peter's Basilica
Vatican Museums
Sistine Chapel

Every day from 9 a.m. to 4 p.m., the Vatican Museums and Sistine Chapel are open to the public.

If you are planning to visit the St. Peter's Basilica, please note the following things.

The Basilica may be closed for religious activities at any time without notice; in this event, a visit to the Vatican Library will be substituted.

St. Peter's Basilica is closed on Easter Sunday, December 24 and 31, and other religious holidays.
Main Highlights at Vatican Museums and Sistine Chapel
There is a lot to experience using Vatican Museums and Sistine Chapel skip the line tickets.
Some visitors have stated that seeing everything Vatican Museums have to offer could take up to a month to complete.
So we've decided to share a few important highlights about the most popular exhibits. Because these museums are far too simple to become overwhelmed.
The Raphael Rooms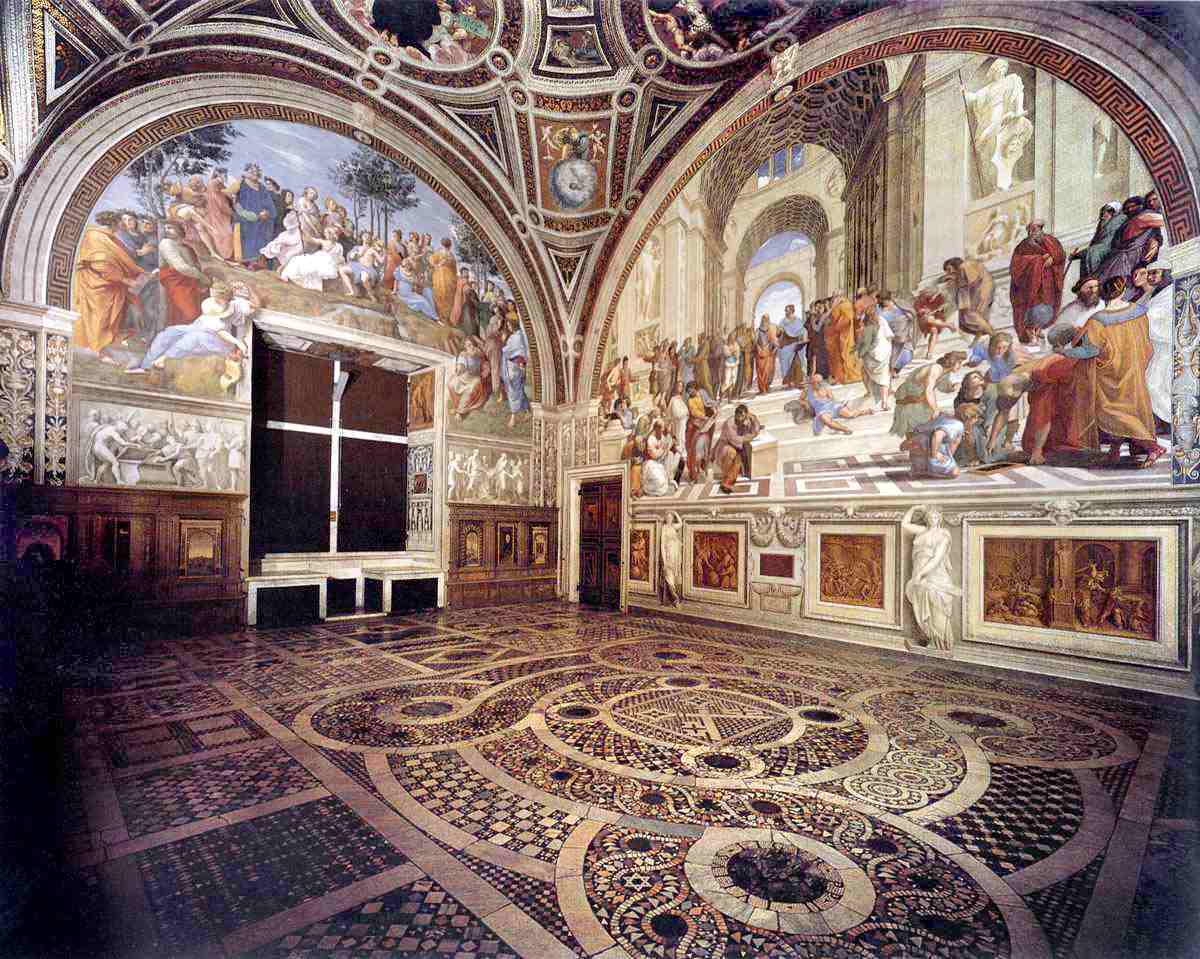 Image Source: commons.wikimedia.org
The Raphael Rooms, also known as the Stanze di Raffaello. It is a series of four rooms of the Vatican Palace. They were meant to be a suite of apartments by Pope Julius II. Raphael and his workshop's High Renaissance works of art adorn the walls of each of the rooms. Those four rooms are named as, 'Hall of Constantine,' 'Room of Heliodorus,' 'Room of the Signatura,' and 'The Room of the Fire in the Borgo'.
Gallery of Maps
Image Source: vaticanmuseumsrome.com
Pope Gregory XIII commissioned a set of maps of Italy in 1580. A Franciscan and geographer, Ignazio Danti, drew these maps. It spread around a 120m long gallery. These maps portray Italy from all directions.
Spiral Staircase
Image Source: i.pinimg.com
The spiral staircase is one of the most iconic parts of the Vatican Museums. Today we saw the improved version which was built in 1932. It is now used by visitors to enter and exit the museum. The most interesting feature of this staircase is its double-helix design.
The Hall of Busts and the Gallery of Statutes
Image Source: cdn-imgix.headout.com
The Gallery of Statues and the Hall of Busts are two of the 54 galleries. Sculptures from the Greek and Roman periods can be found in the galleries. The galleries themselves are wonderfully painted with frescos by painter Cristoforo Unterberger.
Sistine Chapel
Image Source: apollo.imgix.net
The most anticipated gallery among 54. It is the home of papal conclaves. The whole gallery work was completed in 1481, and was designed by Baccio Pontelli.
The ceilings and walls of this structure are covered in beautiful murals. The frescoes on the walls represent scenes from Christ's ancestry. Here you will also find the famous artworks by Michelangelo. Such as "The Last Judgment."
Many people's bucket lists include a visit to the Vatican Museums and Sistine Chapel. This is the place that houses the world's biggest collections of art. This place is not just Rome's most popular tourist attraction. But also one of the world. So don't forget to take the Vatican Museums and Sistine Chapel tickets before visiting.