Vatican City is known as the smallest country in the world with a population of only 1000 people. Located on the west bank of the River Tiber. The city came into existence on February 11th, 1929. The independent state occupies only 44 hectares of land. Which is filled with Piazzas, gardens, and many historical landmarks. It takes only about 40 minutes to walk around the city.
Vatican City is also home to the Pope and the Roman Catholic church. If lucky you can get to see the Pope on Wednesdays in the Vatican's Nervi or St. Peter's Square.
This blog will guide you about what to see in the Vatican and how to get tickets. Alongside other relative information regarding the City.
Best Vatican Tours with Fast-Entry Tickets
In order to save time and hassle it would be wise to pick a tour that includes fast-entry tickets. By doing so you can take a tour without having to stand in long lines.
Here are a couple of tours with fast entry tickets which you can choose from Rome Tour Tickets:
Fast-entry with Vatican Museum skip-the-line tickets.
This tour allows you to walk through the museums at your own pace with skip-the-line tickets. You can also witness artwork done by Bernini, Michelangelo, Titian, and Raphael. By visiting the Sistine Chapel.
The tickets are available every day except for Sundays. And you will get the tickets instantly upon purchase, through a voucher on your mobile. Along with a map of the Vatican Museums.
Vatican Night Tour with Sistine Chapel only on Fridays!
This night tour is only available from the months of May to October. You can enjoy the tour without facing any daytime crowds. It takes about 2 hours to complete the trip. You will be accompanied by a tour guide on your visit.
Get fast entry access to the Vatican Museums where you can enjoy the tranquil atmosphere at night. And also have the opportunity to visit all the museums' galleries filled with maps, sculptures, and other masterpieces.
Then head off to the Sistine Chapel with fast entry access. Where you can enjoy viewing fresco ceilings and chapel walls, done by Michelangelo and Raphael.
What is the best way to get Skip-the-Line Tickets for Vatican Museums & Sistine Chapel?
The best way to get Skip-the-Line Tickets is from Rome Tour Tickets. They have a handful of tours that offer you skip-the-line access to Vatican Museums & Sistine Chapel.
Go through the tours mentioned below:
All in One Vatican Guided Tour: Vatican Museums, Sistine Chapel, and St. Peter's Basilica.
Image Souce: cdn.thecollector.com
This guided tour is available every day except for Sundays. It takes 3 hours to finish looking at everything. During the whole time, you will be accompanied by a tour guide.
First, the guide will walk you along the Museums where you can see great works of art. Then you will have the chance to see sculptures at the Sistine Chapel done by Bernini, Raphael and many others.
After you are done with the Museums and Sistine Chapel, you will be taken to St. Peter's Basilica. Where you can see St. Peter's throne. And also witness the Vatican's architecture and history. St Peter's Basilica is near the Vatican Museums.
Vatican Gardens Bus Tour with Skip the Line Entrance
This tour is for those who have a soft corner for nature. Simply hop onto an ecological open bus and enjoy the breathtaking view of the Vatican Gardens. There is absolutely no need to get down from the vehicle during the 45-minute ride.
There is an audio guide that is available in seven different languages. Explaining all the details of the mountains, artworks, and natural wonders that you can take a glimpse of.
After the ride is complete. You can use these tickets to the skip-the-line entrance to the Vatican Museums and Sistine Chapel.
St. Peter's guided tour with Papal audience experience.
This guided tour is available only on Wednesdays and starts early at 7.45 am. It will take approximately 4.15 hours to finish the tour.
First, you will be taken to St.Peter's Square or the Hall of Pope Paul VI. This will allow you to join the very popular event known as ' Public Audience'. Here you will see Pope Francis and learn many facts about the Romans.
Next, you can skip the line to access St. Peter's Basilica. This is where you can see sculptures from the Renaissance period along with Papal tombs. A tour guide will be there to reveal all the mysteries and history behind the statues and sculptures.
Lastly, you can finish off the tour by taking a walk around the Vatican Museums and Sistine Chapel.
Vatican Gardens Tour with a special entrance.
Image Souce: cdn-imgix.headout.com
This tour will give you skip-the-line access to the Vatican Gardens, Vatican Museums, and Sistine Chapel. The tour is available every day except Sundays. Tour guides are available in four different languages. Which will help you to understand the history and details of the gardens.
You will get to see and walk by gardens of different styles. There is a French-style garden that has sculptures, classic baroque art, and water features. An Italian-style garden that pays tribute to the Renaissance. Also an English-style garden with natural objects. And man-made components too such as temples, bushes, trees, streams, and many more.
After taking a stroll across the gardens. You can use these tickets to enjoy skip-the-line access to the Vatican Museums and Sistine Chapel. Where you can get in touch with the history of Rome. By looking at sculptures, statues, and works of art.
What to see on this Vatican Tour?
Although the City may be very small in size with a minimum population. But they have more than enough landmarks for you to visit. From Museums to gardens everyone of all ages will definitely find something interesting. To keep a memory of and tell others about it back home.
Here are a few places you absolutely must see on your visit to the Vatican:
Vatican Museums and Sistine Chapel
The Museum was founded back in the 16th century. There are around 70,000 paintings and sculptures displayed in the Museums. There are sculptures made by Bernini, Raphael, Michelangelo, and Da Vinci. Alongside a collection of Modern Religious Art done by Van Gogh, Pablo Picasso, and other names.
Inside the Vatican Museums, you can see:
Spiral Staircase was designed back in 1932 by Giuseppe Momo. The stairs are spiral-shaped and have two separate flights. This allows people to go up and down the stairs without bumping into one another.
Image Souce: infinitediaries.net
The Gallery of Maps is located inside the museum which took Ignazio Danti 3 years to complete. It is a 20-meter-long gallery that displays painted maps of Italy.
Image Souce: wp.en.aleteia.org
The Raphael Rooms showcase frescoes painted by Raphael. That marks the High Renaissance in Rome. There are a total of four rooms that make up the Raphael Rooms.
Image Souce: wikimedia.org
The Gallery of Statues and Hall of Busts hold a number of Greek and Roman sculptures. Here you can find statues like the bust of Menander, Sleeping Ariadne, and Barberini Candelabra.
Image Souce: www.smp.org
The Sala Rotunda is a round hall that was built in the 18th century. It has a hemispherical vault that looks like the Pantheon. The Sala Rotunda has many statues which you can have a look at. The place's main attraction is the red basin made from porphyry.
Image Souce: wikimedia.org
The Sistine Chapel is famous for being the temple where Popes are crowned. The Chapel's main attraction is Michelangelo's frescoes on the ceiling
Image Souce: hips.hearstapps.com
St. Peter's Basilica
St. Peter's Basilica is known as one of the biggest churches in the world. Back in 1626, several architects designed the temple. They highlighted work done by Michelangelo and Carlo Maderno. The basilica was named St. Peter's after the execution of one of Jesus's disciples named Saint Peter.
The Basilica holds a bronze baldachin done by Bernini. The statue of St. Peter on his throne and a sculpture by Michelangelo.
Image Souce: cdn-imgix.headout.com
St. Peter's Square
The most beautiful square in the world can accommodate more than 300,000 people at a time. The square is 320 meters in length and 240 meters in width.
There are 284 columns in the square that hold 140 statues of saints made in 1670. Also in the centre of the Square, you can see two fountains.
Image Souce: www.tripsavvy.com
Vatican Gardens
The Vatican Gardens lie on 23 hectares of land where you can see the greener side of the Vatican. There are many gardens with fountains for you to look at. Each fountain is designed uniquely and has significance. Such as 'The Fountain of the Frogs' displays four frogs that spurt water.
The French garden is filled with roses, camellias, and oleander bushes. Whereas the Vatican Gardens are filled with sculptural works. Such as the sculpture of Our Lady of Fatima. The English garden has many manmade components such as bushes, temples, and others.
Image Souce: www.througheternity.com
Useful information for all visitors
When visiting museums and other places in the Vatican certain rules need to be followed. Otherwise, visitors may not be allowed to enter to have a look around.
Vatican Museums discourage the use of mobile phones inside the premises. Visitors are asked to keep their phones silent so that others are not disturbed. Whereas inside the Sistine Chapel, visitors are not allowed to use their phones. It is strictly forbidden.
When visiting the Vatican Museums. Visitors must leave all their luggage and bags in the cloakroom. But upon leaving the museum visitors must pick up their belongings. Before heading off to the Vatican Basilica.
Metal tools such as knives and scissors must all be kept in the cloakroom. This is to ensure the safety of the visitors and also to protect what is being displayed inside. In case of any intentional damage caused by visitors.
Visitors must dress appropriately when visiting most of the places in Vatican City. Especially the Vatican Museums, Vatican Gardens, St. Peter's Basilica, and Sistine Chapel.
Those wearing sleeveless garments, hats, skirts, and shorts above the knees will be denied entrance. It is strongly advised to cover up any tattoos and signs which may offend the Catholic religion.
Food, drink, and any type of alcohol are not allowed to be consumed inside the Vatican Museums. One must keep these inside the cloakroom during their visit. But you absolutely must remember to collect it on the way out. Otherwise, the authorities will destroy whatever is left unclaimed.
There are several vending machines and cafeterias inside the premises. For those who are in need of refreshments.
The Vatican Museums is a non-smoking area. Hence cigarettes or any type of electronic device used for smoking are absolutely forbidden.
Video cameras, tripods, large sticks, and umbrellas must all be left in the cloakroom before entering the Museums.
Families with small children are more than welcome to visit the Museums. The guard staff will give directions to more spacious elevators. Making it easier for visitors to carry strollers.
Most of all there is a nursing room where mothers can breastfeed their children. And also a few spaces with baby changing facilities. Some of the refreshment areas provide high chairs for the little ones too.
Pets even the small ones are not allowed inside the Vatican Museums and a few other places.
But those who are blind or partially sighted can take their guide dogs inside. Provided that the dogs have a muzzle and lead.
Visitors are allowed to take photographs inside the Vatican Museums only for their personal use. This can be done with mobile phones but any other professional equipment used for photography is strictly prohibited.
What are the Vatican Tours Hours, Duration & Operations
Rome Tour Tickets gives a lot of flexibility to their customers when it comes to timing as follows:
Start your tour according to a time that will be convenient for you.
The duration of the tour totally depends on you. Stay as long as you want to explore the Museums and Chapel.
The Vatican Museums open at 8.30 am and close at 10.30 pm.
The Sistine Chapel opens at 8 am and closes at 4 pm.
Is there any security process at the Vatican Museums & Sistine Chapel?
Yes, you have to pass through the x-ray scanners and metal detectors when entering the Vatican Museums and Sistine Chapel. No matter which ticket you purchase, the security check is a must.
When is the best time to Visit the Vatican Museums and Sistine Chapel?
Image Souce: live.staticflickr.com
It is best to visit the Vatican Museums and Sistine Chapel early in the morning as soon as the gates open. Since there are fewer crowds at that time. Another option is to go for night tours where the number of visitors is restricted.
And the months between April to October are a good time to visit the Vatican and its Museums. As the months of November to March is the time when most tourists visit the City.
Is St. Peter's Basilica included in the Vatican tickets?
St. Peter's Basilica is not included in the tickets. But it is free all year long for everyone. Hence you do not need a ticket to enter.
Are there any discounts for Vatican tickets?
You can get discounts on Vatican tickets by purchasing them in person. But that would mean that you have to spend a large amount of time standing in line.
Children between the ages of 6- 18 get discounted tickets.
Students between the ages of 19-25 can avail of discounted tickets. But only by providing the required documentation. Which shows that they are studying in a certain institution.
Lastly, if you want to enter for free. Then the last Sunday of every month allows free entry to Vatican Museums.
Can I buy Vatican and Colosseum tickets combined?
A visit to the Vatican Museums, Sistine Chapel, and St. Peter's Basilica.
In Rome, you can see the Colosseum, Spanish Steps, Piazza Venezia, Trevi fountain, Roman Forum, and Palatine Hill.
Pick up from the hotel and transport directly to the location. Pick-up timing is 8.00 am-8.30 am.
The tour is available every day except Sundays. It starts at 9.00 am and takes approximately 8 hours to complete the whole trip.
A professional tour guide who speaks English
Skip the line to the Colosseum, Roman Forum, and Palatine Hill.
VIP entrance to the Vatican Museums, Sistine Chapel, and St. Peter's Basilica.
A traditional Roman lunch is also included for you to experience a different type of meal!!
How to get Vatican tickets with Roma Pass and Omnia Card?
The Omnia Card includes entrance to the Vatican Museums, Sistine Chapel, and St.Peter's Basilica. Most of all you will get skip-the-line access to these three places by using the card.
When purchasing the pass you will be given a map and travel guide. This will include information about all the attractions included in the Omnia Card.
Access to the Vatican Museums and Sistine Chapel is not included in the Roma Pass.
How can I find Hotels Near Vatican City?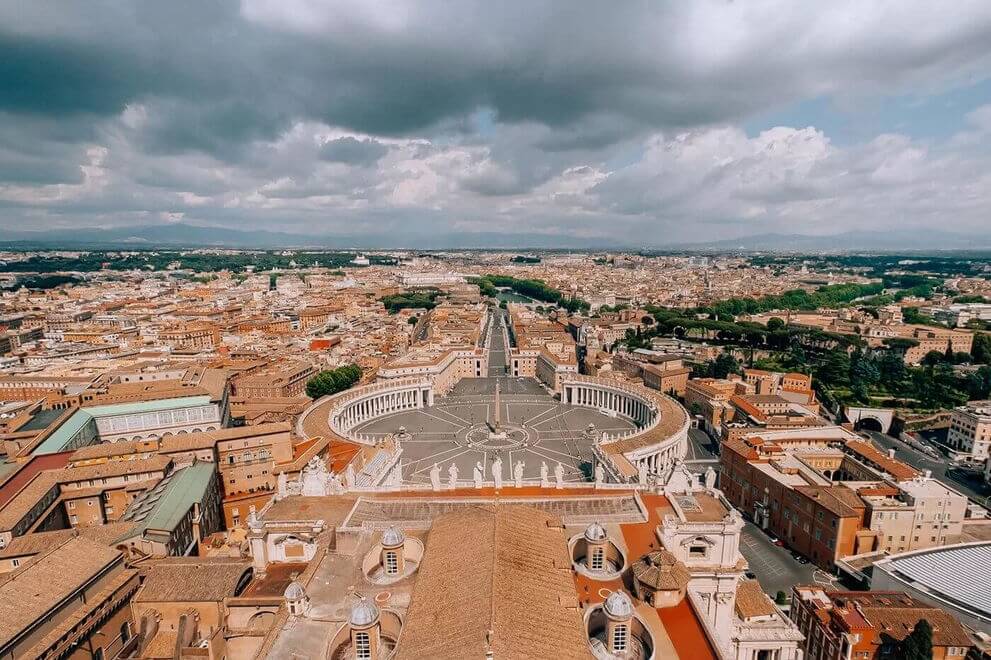 Image Souce: live.staticflickr.com
There are plenty of hotels near Vatican City. Starting from 3-star to 5-star accommodation. There are family-friendly hotels, budget hotels, hotels with parking, and many more.
Many websites have a variety of hotels that you can choose from according to your requirements.
But to save time and money. It would be best to book a hotel in the Vatican in advance before reaching. This will give you more time to explore the city. Also if staying in the Vatican you do not have to spend money on transportation. As you can go everywhere walking.
How can I cancel Vatican Museum tickets?
Vatican Museum tickets can be canceled by contacting Rome Tour Tickets 24 hours before the date of your tour.
But tickets that have been booked for night tours cannot be canceled and are non-refundable.
If you want to cancel just simply send them an email mentioning the date of the tour and the reason for cancellation. It is always better to cancel the tour as early as possible. The amount refunded to you will depend on the date Rome Tour Travels receives your cancellation request.
End Note
Although Vatican City is the smallest country in the world. But you will not get bored once you land. There is plenty of history and architecture to indulge yourselves in.
Rome Tour Tickets offers many tours which include skip-the-line access to the Vatican Museums and Sistine Chapel. There are plenty of tours from which you can choose according to your requirements. Luckily you do not need to purchase tickets to St.Peter's Basilica. As it's free for all.
Be sure to go through the section that outlines useful information. As the Vatican has strict rules regarding certain issues, especially the dress code.
Unfortunately, there are no discounts on adult tickets. But those who are under the age of 25 can avail of the discount. Ticket cancellation policies differ based on the tour type. If you purchase the Omnia Card you will get access to the top attractions in the Vatican.
Before visiting the Vatican, book your hotel rooms online in advance.